Get your Tshirts for Thin Lizzy in Dublin
'Twas the night before Christmas, and all through the t-shirt printing industry, not a creature was stirring, not even a multi-headed M&R Sportsman carousel! Yes, Christmas is a bleak time for screen printing. Everybody goes on holidays, t-shirts nationwide are covered up by cringe worthy Christmas jumpers … and although we have seen consistently milder winters here in Ireland, we can expect a slowdown in global warming thanks to the recently signed Paris agreement, damn bureaucrats .... but it's not all doom and gloom, 2016's on the horizon and with it brings a new hope (forgive the Star Wars pun but as they say, 'tis the season to be Jedi, fa la la la la, la la la la). Next year sees the 30th anniversary of the death of electric superstar and Dubliner, Phil Lynott, and on the 4th of January, Vicar St will host the annual celebration of his work, Vibe for Philo.
Vibe for Philo, the Legacy Of Dublin's Phil Lynott
Vibe is annually held on the 4th, the date of Phil's untimely death and the Vibe tribute is seen as part celebration and part wake. It will capture moments from throughout the Thin Lizzy frontman's career. Each year runs off a particular theme, this year's being a song named, The Sun Goes Down.
The T-Shirt Company
became involved when Vibe for Philo organiser and Dublin muso in his own right, Smiley Bolger, paid us a visit. He asked us to help bring his Philo t-shirt design to life. It was a beautiful, colourful depiction of Phil's instantly recognisable silhouette with a glowing sunrise in the background. So we went all out to capture the image in its full glory. In order to create the bright glow of the red and orange blended sky we elected to use a
plastisol ink
and the result, well, it speaks for itself … not unlike a rising sun on Sutton beach, minutes from Phil's final resting place at St. Fintan's cemetery.
The Vibe for Philo t-shirt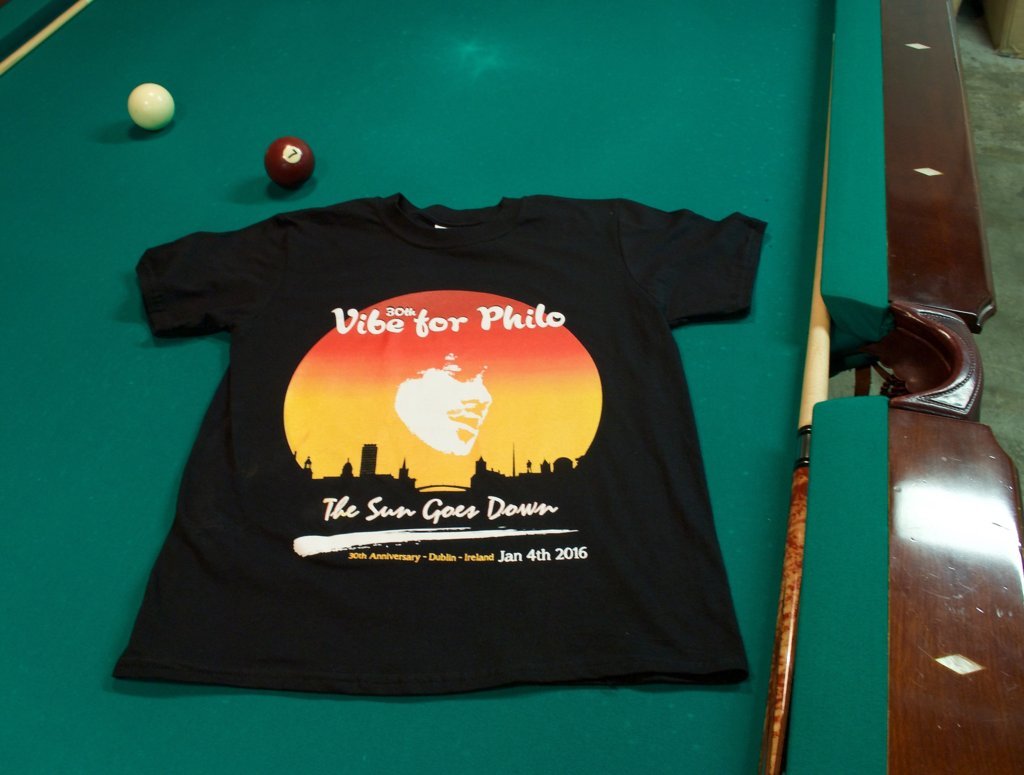 Take a look at how we printed them! Video by Hedgehogs vs Foxes So, this New Year, join us in celebrating the legend that was, and remains Phil Lynott, and grab yourself a savage Vibe for Philo t-shirt.
Event Information Here
RIP Dublin's finest rocker.