Embroidered Sweatshirt Ideas
The sweatshirt is fast becoming the fashion item to be sporting these days and embroidered sweatshirts are something we've seen a huge increase in demand for. We like to think that our involvement in the screenprinting phase of the 'Repeal' campaign helped spread the love for the sweatshirt and since then we certainly have seen the demand for sweatshirts and in particular embroidered sweatshirts explode. This blog's aim is not only to harp on about how fantastic our embroidery is but also to identify various brands of sweatshirts and their suitability for embroidery. When choosing a sweatshirt, many factors come into play. In our experience, from the knowledge we have gathered from our extensive experience in dealing with our customers, price and purpose are the two most critical factors that influence customers and on most occasions, these two influencing factors cross an axis. Luckily for all of our customers, we stock sweatshirt options that cater for all prices and purposes and I'm going to run through a few of our options below.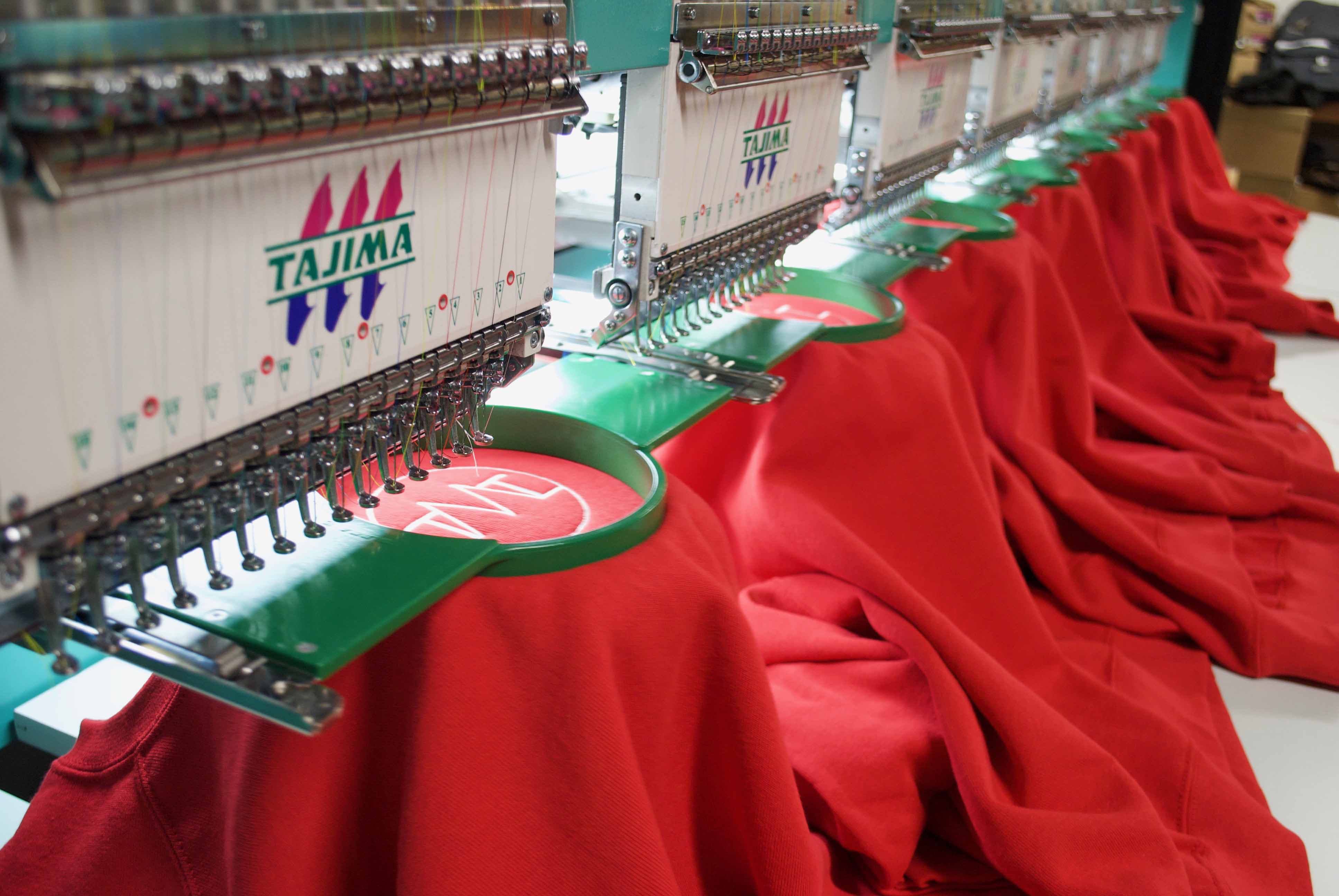 Embroidered Sweatshirt
Stanley Stella Sweatshirts
Starting at the higher end of things, the Stanley Stella brand offers two fantastic sweatshirt options, the SS Changer offers the set in sleeve option and the SS Stroller offers the more standard raglan option. Both of these retail quality garments are a heavy blend of 85% organic ring-spun combed cotton, 15% Recycled Polyester ethically produced and fairly traded fabrics. A new addition to our store, we have been blown away by the quality of these garments and although the price point is higher than other brands, by investing that little bit more into your garments you can rest assured that your customers, clients or staff will be decked out in the finest quality garments.
The Continental N62 Sweatshirt
The Continental N62 sweatshirt is a tried and tested favourite of ours (It's a rare weekend night out that I don't wear one of these beauties). This sweatshirt offers a brushed cotton/polyester blend that makes it irresistibly soft. Perfect for embroidering your company/team/brands logos or artwork, these sweatshirts are most certainly at the higher end of the retail chain and are very popular with our customers such as Airbnb, Facebook & Nearform as well as popular Dublin fashion brands Yogi and Nine Crows.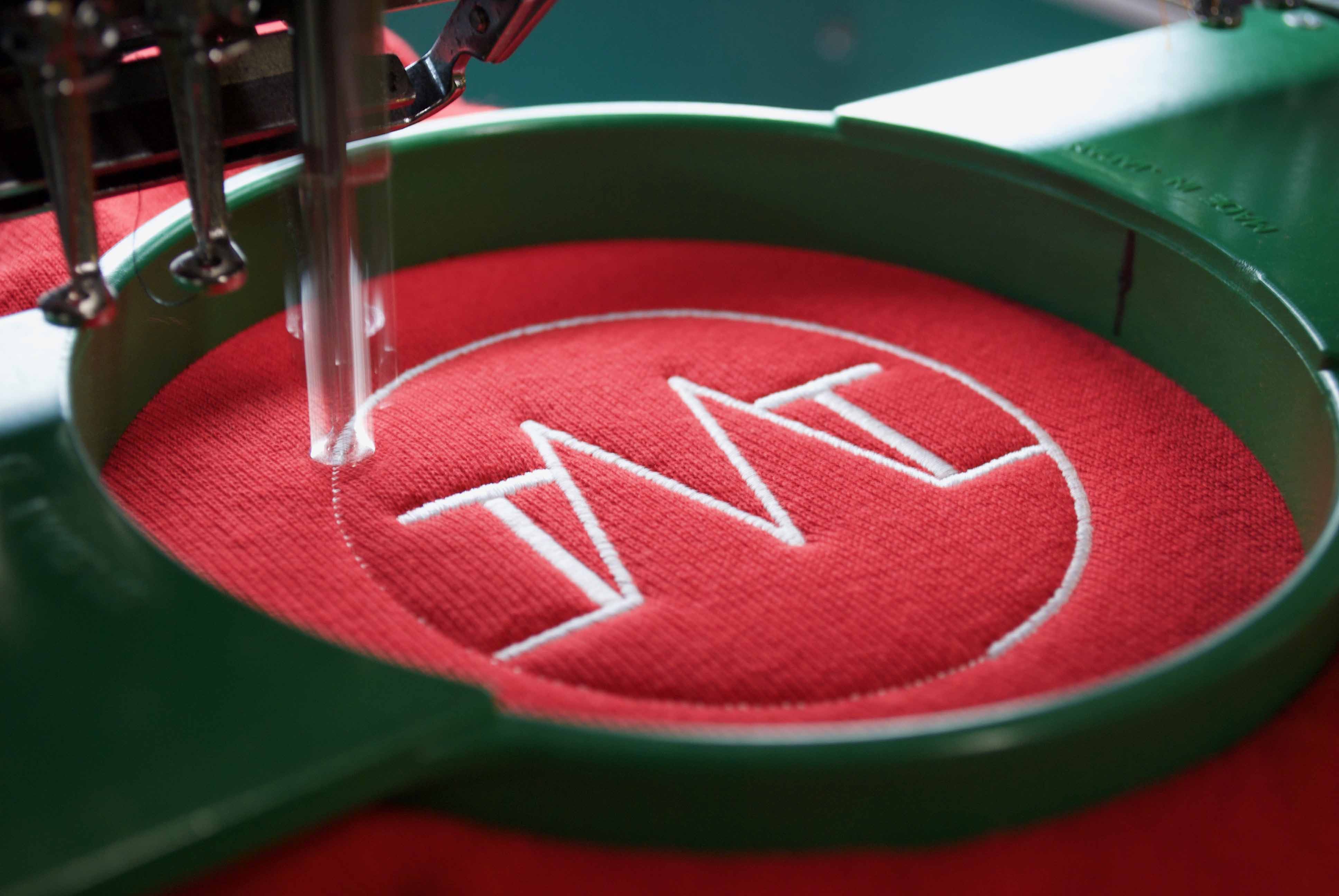 Logo being embroidered
The Gildan and Fruit of the loom sweatshirts
We understand here at the t-shirt company that price can be a deciding factor for many brands and companies when starting out and it is for that reason that we try to stock a variety of sweatshirts to cater for various purposes, whether it's for fashion or for base level marketing events and promotional wear. We have carefully selected two brands of sweatshirts that don't punch the pocket as much as the two aforementioned brands, both of similar price range. The Gildan heavy blend sweatshirt is excellent value, combining a 50/50% fabric blend of cotton and polyester. Affordable and great quality, this sweatshirt serves many purposes but makes perfect casual uniforms for your staff or any marketing events to promote your company. Made famous by the widespread 'Repeal' campaign, the fruit of the loom raglan sweatshirt is of similar price range to its Gildan counterpart but somewhat lesser quality (Although this is opinion based, some of our customers prefer it's 80/20% blend of cotton/polyester that makes it a little firmer than the Gildan option). Both of these sweatshirts are perfect for either screenprinting or embroidery, whatever method of branding that suits your needs best.
Although we feel that these sweatshirts cover many bases, if there is a brand of sweatshirt in particular that you have your heart set on why not drop us an email and see if we can source them for you. Our multiple supplier connections ensure we have access to many of the most popular brands across the world.