Neutral CLothing - Eco friendly and fairtrade approved
The Tshirt Company are proud to announce the latest brand we have sourced in our attempt to be the first climate-neutral Tshirt printing company in Ireland, the aptly named Neutral Clothing. Based in Copenhagen Denmark, Neutral clothing have ensured that all aspects of their manufacturing and distribution chain are conducted with the respect and protection of both the people tasked with the manufacture of their products, and the planet that provides the ingredients at the heart of their company's ethical focus. The humanistic values adopted by companies such as Neutral Clothing are very much in line with the ethos at the core of the T-shirt Company and with 2020 being the year where we push towards minimising our carbon footprint even further, we aim to promote companies who do not compromise quality for profit margins, not to mention human dignity, companies such as Neutral Clothing.
Fairtrade Organic Printed Tshirts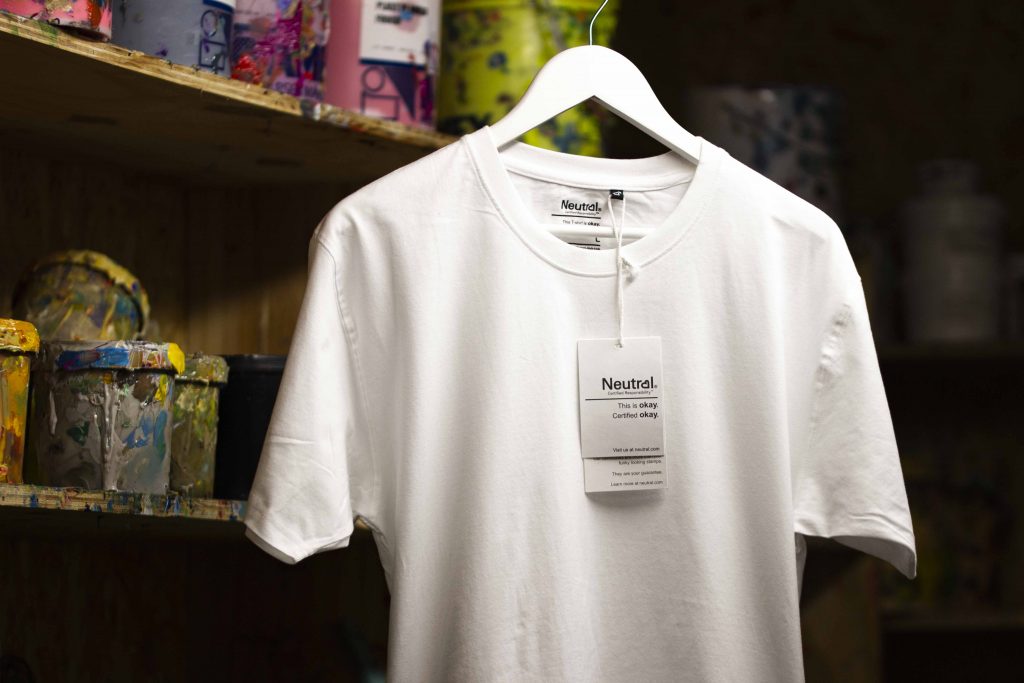 Neutral Clothing
It is refreshing to see companies such as Neutral Clothing working to ensure that all aspects of their operations are within the certified boundaries of international sustainability standards. These standards are assured and certified by various organisational approvals that grant certificates of approval. These include GOTS, 100% organic cotton by GOTS Sustainable Textile methods certified and inspected by Control Union. The aim of the standard is to ensure the textiles are made using raw organic materials through environmentally and socially responsible methods. The Fairtrade stamp, The Fairtrade Certification Mark is your independent guarantee that the cotton in this product has been certified in accordance with international Fairtrade Standards. To achieve SA800 status which Neutral have accomplished, companies must pass rigorous tests with the results verified by an independent body. The Oeko-Tex 100 Standard addresses the human ecology component of textile products. It screens for any harmful substances present within processed textiles, which are intended to come into contact with consumers. Coupled with these certified assurances, the quality of Neutral's products have led us to stock and promote the Neutral brand. We believe that Neutral are an international brand of the future.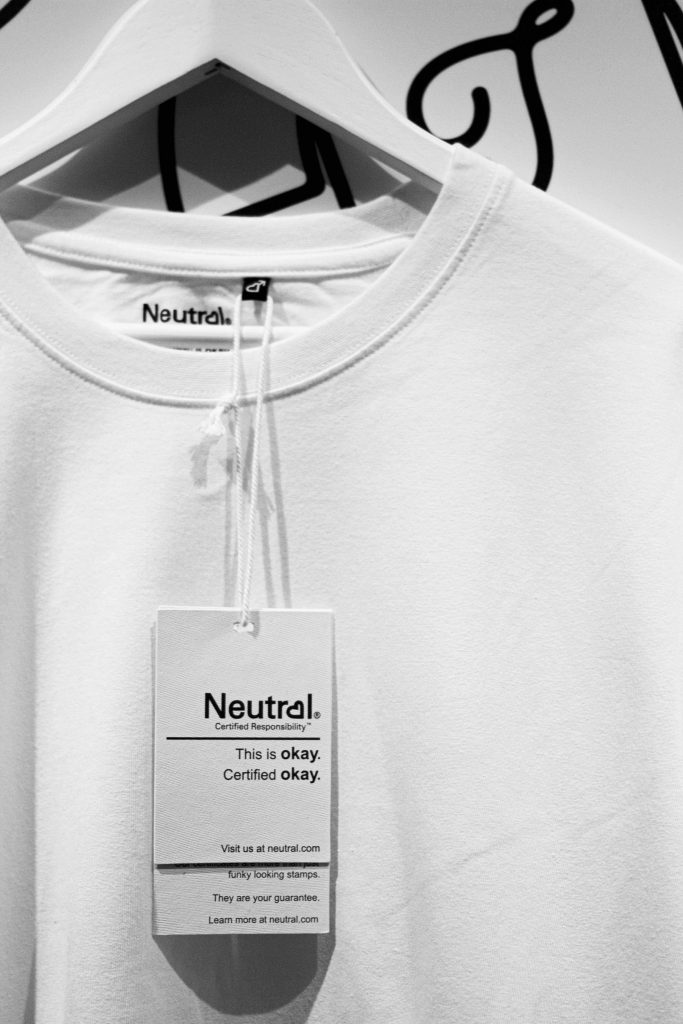 Fair Trade Neutral Organic
Eco friendly screen printing
Our Eco-friendly screen printing compliments perfectly brands such as Neutral, Stanley Stella and Fair Share's organic and fairtrade principled manufactured garments. Waterbased ink prints using only non-toxic colour pigments give us an ethical advantage over our competitors and give our customers an assurance that we take our corporate responsibilities seriously. Naturally, producing ethical prints comes with a cost and the use of waterbased inks takes a little bit more time than industry-standard plastisol prints, we have incorporated these printing times into our business model and ensured there is no additional cost passed onto our customers. However, the production of Fairtrade approved organic garments comes with a cost and this is reflected in the more expensive prices of these brands, but the knowledge that farmers and weavers are being remunerated fairly and that the carbon footprint of the garment is minimal, provides comfort that's priceless. At the T-shirt Company, we would prefer that our customers invested in a quality product with ethical assurances and wore the tshirt for many many years rather going with a budget Tshirt and coming back to us every year and contributing to the throw-away society we have seen grow from what has become a 'race to the bottom' industry, encouraged by the likes of Zara and Primark.
The Future of Tshirt Printing
There is no doubt that the future of screen printing and the clothing industry is climate-friendly. There is of course, learning in this transition and it requires time. Here at the T-shirt Company we are embracing these changes and coupled with clothing manufacturers such as Neutral clothing we can ensure that our customers have the option of making fully ethical choices when finalising their orders. We believe it is the responsibility of the individual to be informed and aware of the impact their decisions are having on this earth and we hope that our customers will work with us in becoming a fully climate-neutral enterprise.