David Bowie (Tshirts) Will Never Die
It seems like only yesterday we celebrated Jesus' birthday. But did you know that today is actually a real bonafide God's birthday? Yes, today we celebrate the 69th year since David Bowie landed on Earth. Mystery still surrounds the conception and birth of the intergalactic phenomenon, with rumours abounding that his mother was a unicorn and his father, William Butler Yeats (an oddity for sure as Yeats died eight years before Bowie's birth). Then again, these could be just that, rumours. What's for sure is that whomever spawned the little wonder that is David Bowie provided the world with something special, and, on his name day we should celebrate Bowie for all the art he's created for us mortals over the years.
Unless you're part of one of the few undiscovered colonies in the South Pacific Ocean, Bowie has been pretty much an ever-present entity in everyone on planet Earth's life for the guts of fifty years; from haunting our childish dreams as the Goblin king in Labyrinth, to being an integral part of the soundtrack to our youth. It was safe to say as soon as Ground Control contacted Major Tom in 1969, it was almost a direct reflection of Bowie contacting the world. We had heard something new, unique and original. Who was this bizarre White Duke we asked? Did he have enough creativity to back up such an auricular treat? We didn't have to wait long and were soon treated to Bowie's alter ego Ziggy Stardust. The hits kept coming and over the years we witnessed Bowie evolve through phase after phase after phase. His political and religious neutrality made his music accessible for everyone and transcended borders and cultures enabling everybody to enjoy his work. The upbeat and open ended interpretory nature of his music encouraged everybody to get involved and dance. So we put on our red shoes and did just that.
David Bowie Comes Home to Dublin
What made Bowie so brilliant was his willingness to try things and there were some shockingly bad clothes, hairstyles and music choices (most notably that video with Mick Jagger, what was that about?). If it were anyone else, he would have been lampooned by the public, but no matter how obscure he got, he was always the barometer of cool, and when Bowie spoke, people listened.
On this special day of days, we celebrate Bowie's Birthday. The lads at The Grand Social decided to honour the legend by organising a festival in his name. Naturally, no festival would be complete without a range of t-shirts and The T-Shirt Company, as always, were at hand to help out. Check out these snazzy tees we printed for the festival. Go along and get yourself one, be sure to tell them we sent ya.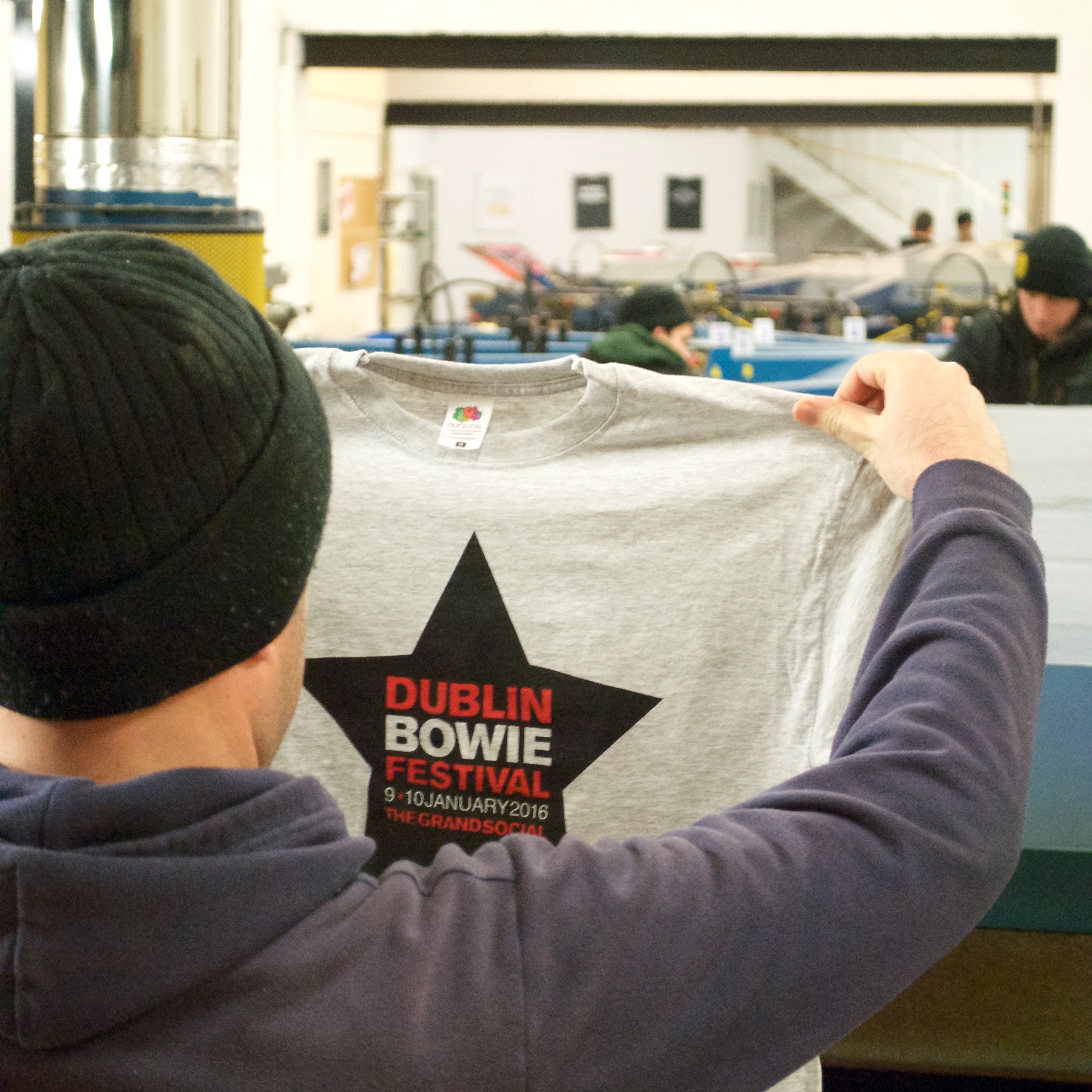 This year will be the inaugural Bowie Festival in Dublin and is sure to be a solid fixture on the Dublin event calendar for years to come. There's a Bowie quiz, a Bowie-oke - which, I believe, is karaoke with a ban on all music not Bowie. Then, presenting the piéce de résistance, Rebel Rebel, an outstanding tribute band to Bowie that actually does his music justice. Trust me, if you haven't seen Bowie live, this is the closest thing you may get.
Not many rock legends have lived long enough to see their own festival, most perished by way of the the rock and roll lifestyle. Bowie lived the life but managed to survive which makes him even cooler.
So if you're a Bowie fan, put your New Year's ch....ch....ch… changes on the long finger and get down to the Bowie festival to pay homage to our hero, David Bowie.
Did I say we love Bowie???